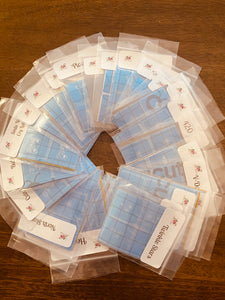 CultureAddicts
Airbrush Stencil Bundles
Regular price
$15.00
Sale price
$125.00
Unit price
per
Handmade Airbrush Stencils made especially for long nails. If you would like to downsize please let us know.  You'll have two choices of material of which to choose from. Our best quality and reusable stencil would be our masking film material. This is more for professional use but is perfect for beginners too. The second choice would be out matte material which is more cost effective and may be reused 1-3 times at most. Make sure to remove stencil and handle gently with care to prevent tearing. We also definitely recommend a stencil storage book for the mask material since the stencils are hard to see so you can have them perfectly organized and ready for usage. When finished with the stencils and if using our paints  gently wash with some dish soap and air dry on parchment paper for your next usage or alcohol. 

How to select which material is right for you.
If your a beginner then our MATTE  material works best. It's the most affordable material and can be re used 1-3 times until you get the hang of airbrushing. 


If your a professional or already have the hang of using stencils then our MASKING STENCILS will work for you. These are reusable better quality stencils that are tacky but not to much. A lot easier to work with. The cost is a slightly more since this material is imported, but they last longer especially if you have one of our stencils storage books to organize them. 
What Stencils to select.
If you choose our Any Selection bundle then you must send us your 25 designs of choice in a form of a list to our email or dm on IG. You can scroll thru our stencils on the site to see what designs you like. If we don't hear a response in a timely matter will send out our top sellers. *This bundle excludes laser and accents stencils. *


If you select our Top Sellers then you will receive these 25 designs listed below. You can always add design you don't see on the list to your cart.
Plain hearts, stars, hearts 2, 420, circles, clouds, play b, flames, money sign, bubbles, smile faces, devil hearts, butterflies 1, butterflies 2, Numbers Old English ,cherry's, dice, DoubleCCs, L-V, Baby P, twinkles, bubble hearts, moon and stars. 
If you select our Just Boujie  , then you'll receive these 10 design. Play b, DoubleGGs , DoubleFFs, Double CCs, L-V, Baby P, Juice, Barb, and Designer drips.  
---