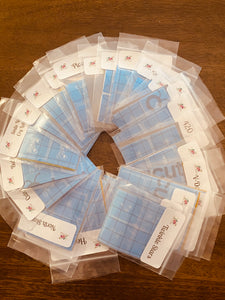 CultureAddicts
Airbrush Stencils Mini Bundles
Regular price
$25.00
$0.00
Unit price
per
Introducing our airbrush mini bundle! Same excitement as the big bundle too! You get to choose 12 of your favorite design with the option of any of our material or select our top sellers. Once you order please email us or DM us through our Instagram with your list of your 12 selected items so we can process your order. 

How to select which material is right for you.
If your a beginner then our MATTE  material works best. It's the most affordable material and can be re used 1-3 times until you get the hang of airbrushing. 


If your a professional or already have the hang of using stencil then our MASKING FILM STENCILS will work for you. These are reusable better quality stencils that are tacky but not to much. The cost is a slightly more since this martial is imported but they last longer especially if you have one of our stencils storage books to organize them. 


What Designs to select.
If you choose our any design bundle then you must send us your 12 designs of choice in a form of a list to our email or dm on IG. You can scroll thru our stencils on the site to see what designs you like. If we don't hear a response in a timely matter will send out our top sellers. *This bundle excludes laser and accents stencils. *


If you select our top sellers then you will receive these 12 designs listed below. You can always add design you don't see on the list to your cart.
Hearts, stars, circles,twinkle, play b, cherry,doubleCCs ,L-V, baby p,  twinkle 2, butterflies 1 and butterflies 2.
---